If you're wondering how much boot storage space the Australian Hyundai Ioniq 5 2023 has, it's listed as 527 litres. The wide hatchback style opening is easy to access because the lid opens up so high, just like it's cousin the Kia EV6.
The tailgate is powered even in this base Ioniq Dynamiq model, which will be appreciated by short people, people with kids etc.
However I'm tall, have no kids and often have to park under trees so I prefer an unpowered tailgate like the Kia EV6 Air, so I can open to exactly below the tree branch without risking hitting it.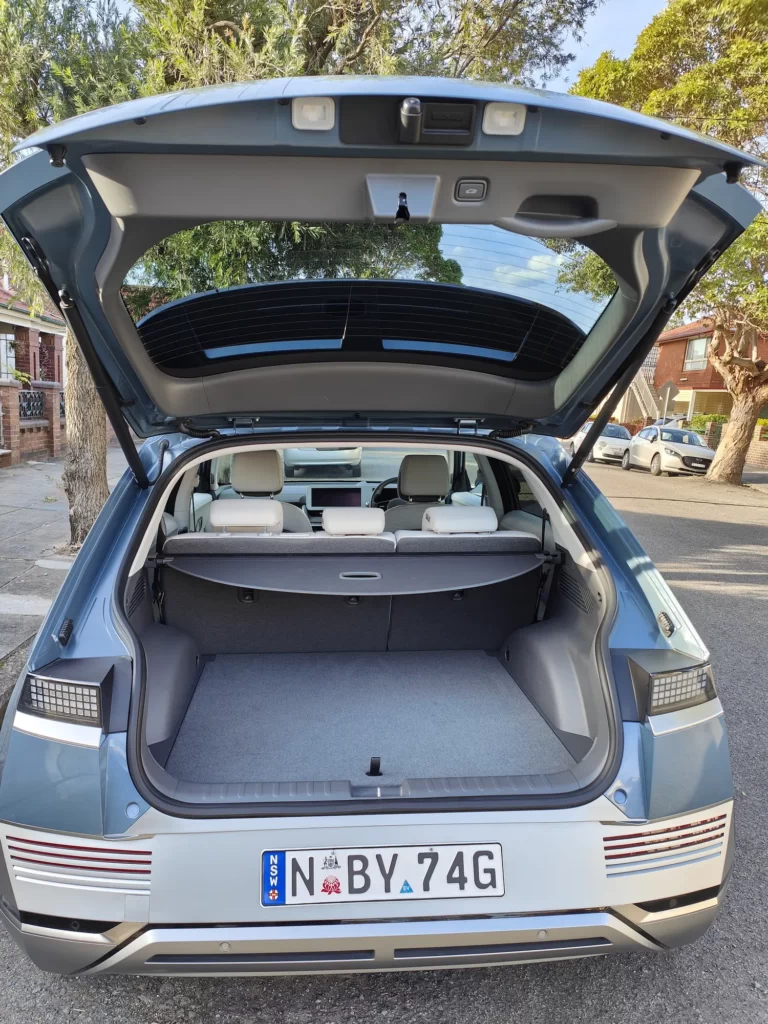 Looking for an adjustable boot floor I was disappointed to see that this isn't possible with the Hyundai Ioniq 5, unlike the Kia EV6 Air (have a look at my boot space storage test for that EV).
That's because there is a big Bose branded plastic box hiding under the boot floor containing audio hardware. Around the sides there is space for a tyre mobility kit, cargo net and any other small items you might not use often and want to hide under the boot floor.
On the plus side since it's not adjustable down the Hyundai Ioniq 5 always has a flat boot floor with no lip which make it easy to slide in and load heavy items like big boxes from Bunnings.
I could also fit in plenty of bags of grocery shopping as well as a Large 3 wheel Rolser trolley (not pictured because I forgot to put it in before photographing).
Looking at the left side of the boot I noticed a 12V 180 watt Cigarette Lighter socket (just like the Kia EV6) which is handy for a back dashcam or powering a esky to keep food chilled.
Should you load the boot with too much luggage or other items the tailgate will refuse to auto-close and bounce back up again.
The cargo cover is fully retractable which is very handy so it doesn't take up lots of room when you're not using it.
I managed to fit in all my test luggage which is an excellent result:
2 x medium sized suitcases
2 x carry on luggage
1 x bag with my 7m Type 2 to Type 2 cable
1 x backpack (hiding behind the cable bag)
There is an additional handy space (front trunk) that holds 57 litres under the bonnet which contains the Hyundai 2.4kW charging cable, V2L adaptor and has space left over for some other things eg cleaning towels for the car or perhaps dirty shoes after playing sports.
Note the front trunk is only useful for this rear wheel drive (RWD) Ioniq Dynamiq version, the higher spec TECHNIQ and EPIQ both only have a small 24L front trunk because of the front motor taking up space.