Digital radios: what are they, what can they do and why should you get one? I put my Technology Journalist hat on to update listeners of ABC Radio in Sydney, NSW and Canberra about what's happening in the area of Broadcast and Internet streaming radio.
Listen to my 07/03/2012 discussion on ABC Radio NSW and ACT Evenings with Dominic Knight re Digital Radio. MP3 recording courtesy of ABC Radio.
Australian Digital radio was launched in mid-late 2009 by all commercial and public service broadcasters in Sydney, Melbourne, Brisbane, Adelaide and Perth. Low power digital radio signals were switched on in Canberra and Darwin in mid-2010, despite being called temporary "trials" they have continued for over 1.5 years with no end in sight. Many Community Radio stations also joined the digital radio world in May 2011.
For more details read: Australian Digital Radio DAB+ : State of Play and New Features.
Digital radio does suffer from one issue which is that you either get a perfect signal or none at all. If you're in an area with a weak digital radio signal I'd suggest trying the OXX Digital Vantage DAB+ Portable which I use in my apartment because it manages to pickup the digital radio signal without the antenna even being extended. With every other digital radio I've tried at my place radio playback can be glitchy even with the antenna fully extended.
Digital Radio Reviews
When it first started in Australia the prices for digital radios were very expensive indeed compared to traditional AM/FM radios. Thankfully the prices for those radios are now 10-50% less then they were when I first reviewed them and quite a few are available for less than $100.

Whether you like Podcasts, AM/FM, digital broadcast or streaming radio, we've come a long way since this old 5 Valve set from 1925.
Which Digital Radio Should You Buy?
I've reviewed quite a few digital radios and suggest the following:
Portable In Pocket – OXX Digital Pocket Digital Radio with a-JAYS One Earphones (Review)

Portable/Budget/Poor Signal in Your Area – OXX Digital Vantage DAB+ Portable Digital Radio With Retro Styling (Review)

Budget with EPG and Recording – Grundig Replay which can record digital radio to a camera card – video review by me.

Budget All in One – KOGAN Deluxe (Wi-Fi DAB+ Digital Internet Radio With iPhone Dock)

Premium High End – Grundig Trio as reviewed by my Home Theatre Journalist friend Jez Ford.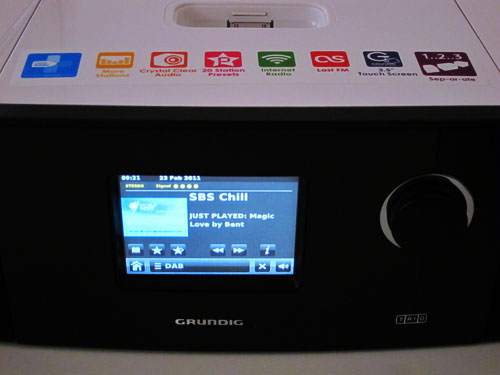 Digital Radio Review: PURE EVOKE-2S and PURE AVANTI Flow

Other Digital Radio's I've reviewed
Innovative Digital Radios: PURE Sensia and BUSH Walker

OXX Digital Classic DAB+ Digital Radio with WiFi Radio and LAN port